Every week since March 2020 feels different.  The energy is penned up, uncertainty is high,  and the momentum is both suffocating and hopeful. With these works, we touch upon stillness, belonging, crisis, fear, pain, hope, queer and diasporic subjectivity, and the powerful uprisings against state violence and police brutality towards Black folks and the ongoing work that is necessary for the reality we do want to live in and inhabit collectively.
Shelter-in-place and the COVID-19 global pandemic, has me thinking about how printed matter is such a powerful way of communicating. Inevitably, attempting to find the exact postcard that represents the reality that we are living in is almost impossible. For these reasons, I decided to materialize my current piece of mind and shared my experiences by creating a still life image to represent this time. As a way of longing for dear friends and collaborators during this time, I invited three queer artists based in the Bay Area,
José Joaquin Figueroa
,
Lukaza Branfman-Verissimo
and
Jamil Hellu
, to partake into this exercise. I asked them to create a still life that reflects the reality they are currently in, to include the objects, words and feelings that surround them. A type of visual engagement for us, for you, a unique postal of this moment.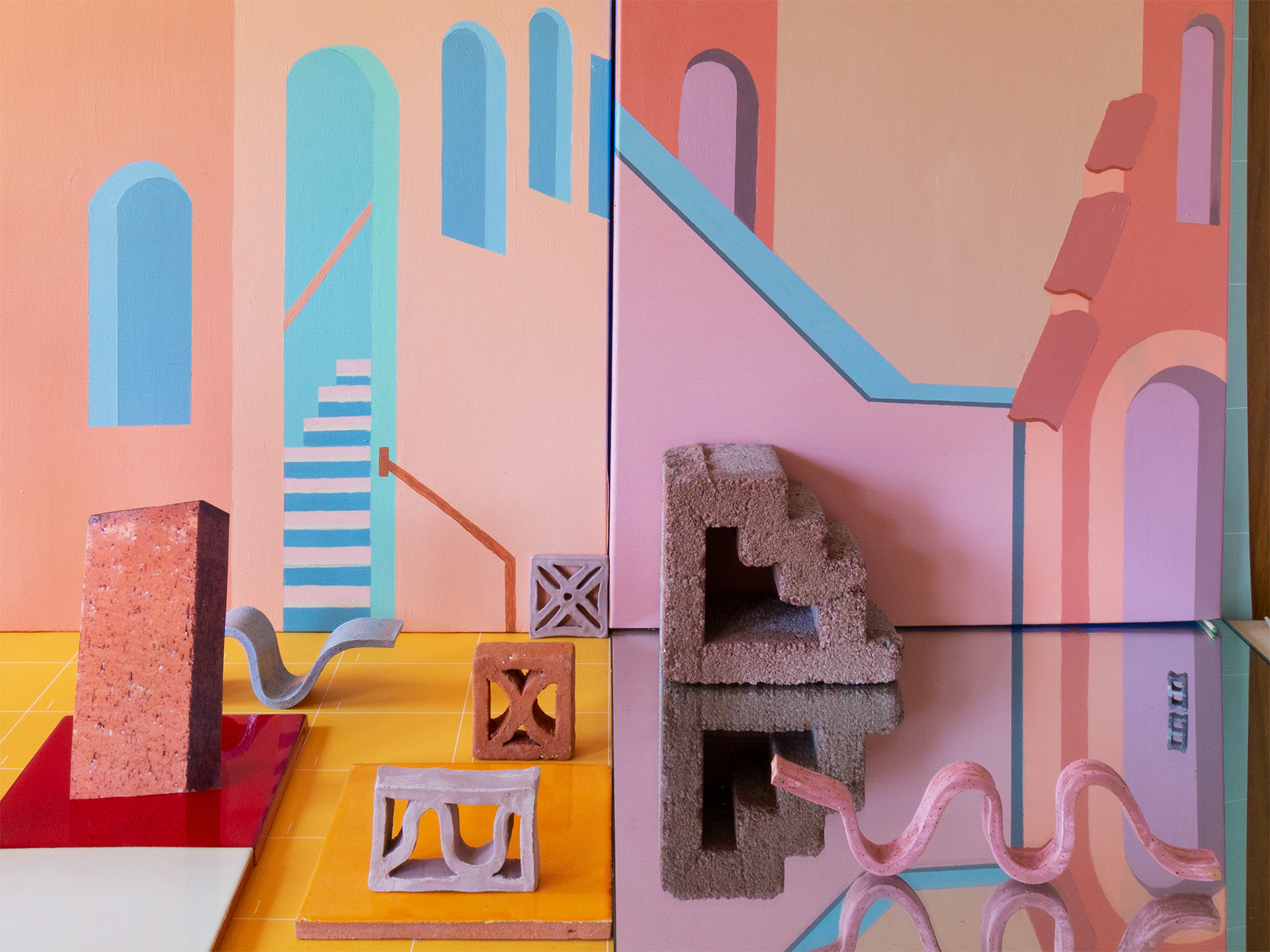 This work comes from the beginning of the quarantine, a moment of stillness, uncertainty and reflection.
The time has brought me back to painting and clay, and has made me overly aware of how we inhabit architecture and living spaces. I think of the potential of building and inhabiting the places and spaces we want to build and rebuild, the spaces where we want our futures to exist in.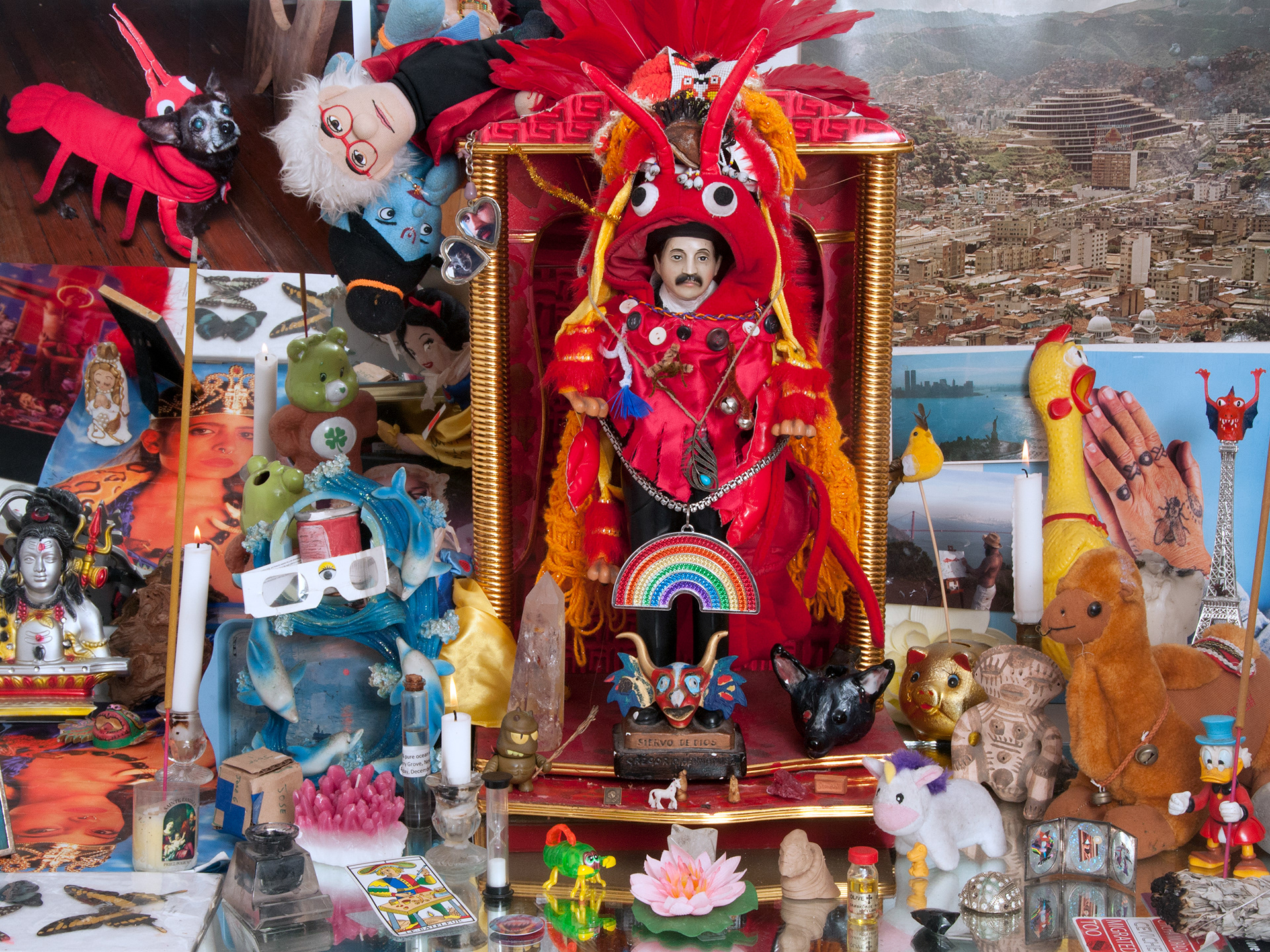 When I was invited to create this still-life I was in the process of packing and moving into a new space. As an exile and nomad I find myself collecting objects -including artwork, that allow me to illustrate part of my life pilgrimage and become part of an on-going altar making practice that extends to where I go. The figure of Jose Gregorio Hernandez - a revered Venezuelan doctor that belonged to my paternal grandmother, is wearing a lobster costume that belonged to my dog. Artworks highlighted in this rendition include work of Venezuelan photographers Nelson Garrido and Gala Garrido and my Colombian sister and catalist Marcela Pardo. Composing an image with these items became a playful process that results in a reflection of who and where I am. It's hard to pack, edit and dispose of objects of sentimental nature. They enable me to travel.
The crystal skull has been one of the most meaningful objects in my home during the 2020 quarantine. It often catches my attention during my day-to-day routine in lockdown, constantly reminding me of my own mortality. The skull affirms that we are alive and deeply connected, as it also offers the remembrance of those who have passed away due to the virus.
We must love each other & support each other, 2020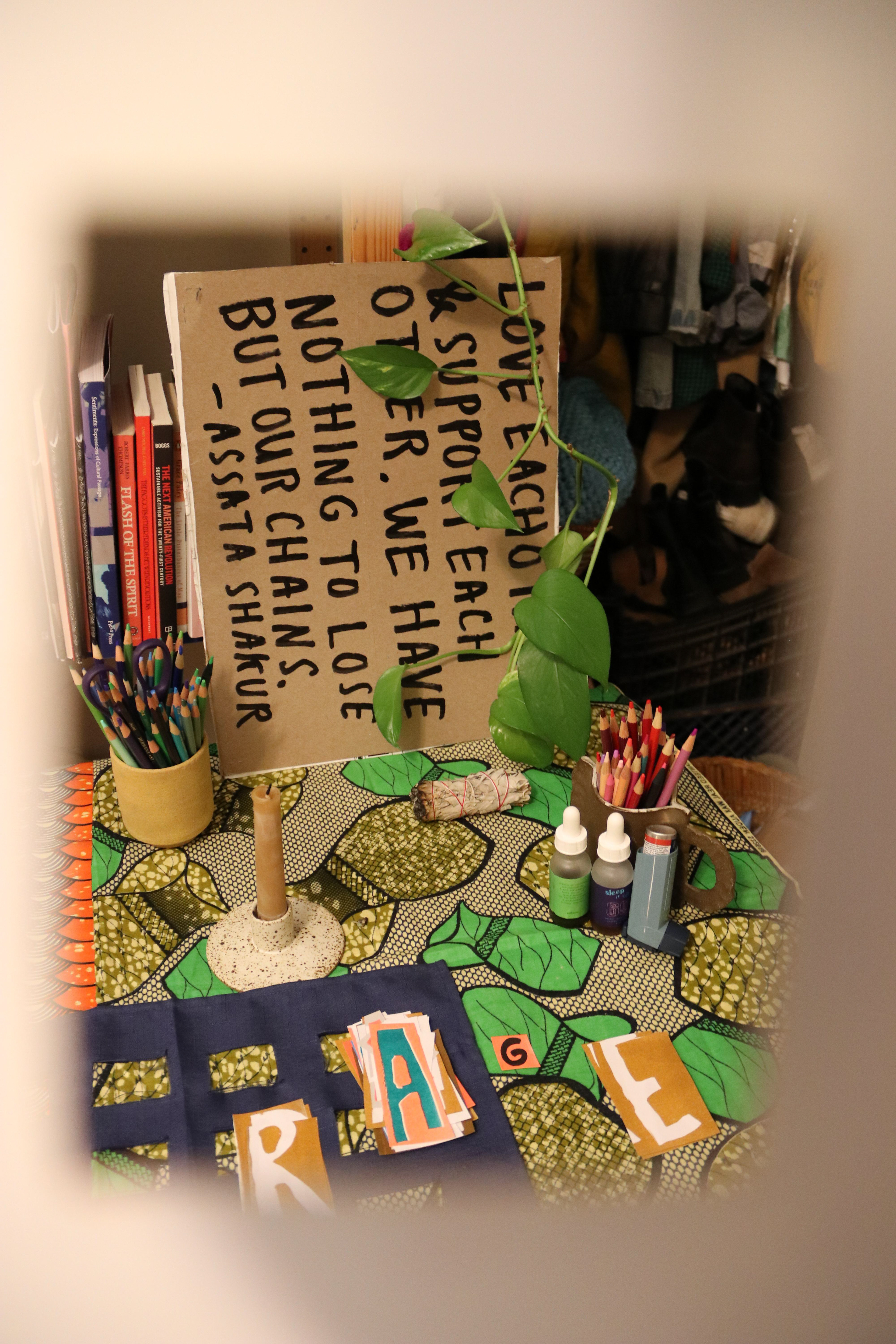 Looking through a viewfinder, I examine the objects that I have spent the most time with over the past few months. The objects that have brought me joy and a sense of calm, the objects that have given me power and force, the objects that have helped me breath and that I have watched grow longer and longer, the objects that I don't often appreciate as much as I am right now. A viewfinder inspired by Corita kent, colored pencils, a candle from my altar, sage, a protest sign with Assata Shakur's words on it, a plant, herbs for sleeping and herbs for allergies, books, my desk table covered in my favorite fabrics, my inhaler, cut out letters that spell R-A-G-E. Each one of these objects holds a new meaning, practice and function in this new moment. I light that candle everyday on my altar for those who have been murdered by the police, killed by covid-19 and white supremacy. I cut out letters to make new messages and say Assata's words like a prayer, during this ongoing fight for black liberation.